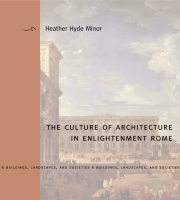 The Culture of Architecture in Enlightenment Rome
Winner of the 2010 Helen and Howard R. Marraro Prize in Italian History as sponsored by The Society for Italian Historical Studies, an affiliate with the American Historical Association. Honorable Mention for the 2013 Alice Davis Hitchcock Book Award from the Society of Architectural Historians.
"This study makes a considerable contribution to our understanding of eighteenth-century architecture in its cultural and intellectual context."
"Filled with discussions of taste, doctrine, ecclesiastical history, familial strife, archaeology, and book history. . . . Minor has arrayed a rich feast of information around the architecture of papal Rome in the eighteenth century. She brilliantly resurrects the aspirant ambitions of popes, scholars, and architects that built in order to keep Rome a centre of art and learning."
Beginning in the 1730s, Heather Minor tells us, Rome "began to resemble one huge construction site," with a series of ambitious and expensive new building campaigns that transformed the face and substance of the city. From renovations of the Santa Maria Maggiore and San Giovanni in Laterano and the restoration of the Arch of Constantine to the creation of the Capitoline Museum and the establishment of the papacy's Calcografia, the push for reform not only renewed papal and Church identity but also revived Italian culture as a whole. Based on extensive archival research and full of fascinating stories about the often stormy theological and intellectual debates central to the attempts at reform, The Culture of Architecture in Enlightenment Rome brings to life the personalities of architects, theologians, and intellectuals and links the extensive architectural programs with powerful shifts in the intellectual climate of the time.
Contents
List of Illustrations
Acknowledgments
List of Abbreviations
Introduction
Part 1. Restoration
The Past as Future: Ecclesiastical History and Christian Antiquity
1. San Giovanni in Laterano: How Alessandro Galilei Finished One Controversy Only to Begin Another
2. Santa Maria Maggiore: How Pier Filippo Strozzi Tried to Understand the Modern Notion of History and Failed Completely
3. The Corsini Chapel: How Giovanni Bottari Used Ecclesiastical History to Write a Book, Build a Chapel, and Vanquish His Enemies
Part 2. Reform
Papal Palaces in the Age of Economic Reform
4. The Corsini Palace: How Neri Corsini Still Managed to Build One of the Most Extravagant Palaces in Rome
5. The Quirinal Hill: How Lione Pascoli Tried to Solve Everything with a List
Part 3. Renewal
Building Knowledge: Public Institutions and Learning
6. The Capitoline Museum: How Alessandro Gregorio Capponi Finally Convinced Everyone He Was Important
7. The Corsini Library: How Giovanni Bottari Got the Last Word
Conclusion
Bibliography
Index