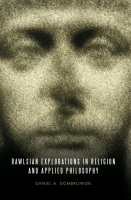 Rawlsian Explorations in Religion and Applied Philosophy
Publish Date: 6/15/2011
Dimensions: 6 x 9
Page Count: 160 pages
Hardcover ISBN: 978-0-271-04873-4
"Daniel Dombrowski's book is an important contribution to our understanding of the implications of Rawls's political theory for law, policy, politics, and religion. It uses justice as fairness to shed light on many issues—war, animal rights, affirmative action, and religious diversity in a democratic society—that have been relatively neglected in the literature on Rawls. Dombrowski brings to the task both analytic precision and a religious sensibility, and his ability to tease out the often hidden religious assumptions and implications of Rawls's theory is impressive. Moreover, the concrete positions that Dombrowski stakes out—support for pacifism and animal rights, opposition to legacies and affirmative action—are controversial, especially from within a Rawlsian framework, and they should deservedly garner the book much scholarly attention."
"Despite the immense secondary literature on the work of John Rawls, there has been relatively little that aims to explore the application of his approach to more concrete issues. This is exactly what Dombrowksi provides, extending and applying justice as fairness in discussions of war, mental disability, animals, affirmative action, and religion. While sympathetic to Rawls's basic approach, Dombrowksi does not shy away from criticizing some of his brief comments in these areas. He also engages productively with the work of Nicholas Wolterstorff, Michael Walzer, and Martha Nussbaum, among others. Consistent with the idea of reflective equilibrium, which Dombrowski discusses insightfully, the arguments that he constructs concerning these more concrete matters also have some important and surprising implications for the more abstract principles themselves. It is a very welcome addition—and makes a distinctive contribution—to the literature on Rawls."
"This critical appreciation and application of John Rawls's achievement is the more distinctive because political liberalism is here integrated with process metaphysics. Dombrowski is entirely familiar with the relevant literature defining both discussions and, in addition, with recent treatments of several vexing contemporary issues that focus these chapters, and his analyses are detailed and judicious throughout. The result, while recognizably Rawlsian, is thoroughly Dombrowski's own and is a marked contribution to the conversation, both on political philosophy and on the difference philosophy makes to specific political problems."
"In this clear and accessible book, Daniel Dombrowski brings the political philosophy of John Rawls to bear on a number of topics of great practical interest: war, disability, animal rights, legacy admissions, affirmative action, and religious belief. Dombrowski's explorations are informed by an expert knowledge of Rawls's texts, by the latest scholarship, and by his own deep acquaintance with process thought. Dombrowski is therefore able to extend and challenge Rawls's thought in original and provocative ways that thoughtful readers of Rawls will find most instructive."
To probe the underlying premises of a liberal political order, John Rawls felt obliged to use a philosophical method that abstracted from many of the details of ordinary life. But this very abstraction became a point of criticism, as it left unclear the implications of his theory for public policies and life in the real political world. Rawlsian Explorations in Religion and Applied Philosophy attempts to ferret out those implications, filling the gap between Rawls's own empyrean heights and the really practical public policy proposals made by government planners, lobbyists, and legislators. Among the topics examined are natural rights, the morality of war, the treatment of mentally deficient humans and nonhuman sentient creatures, the controversies over legacy and affirmative action in college admissions, and the place of religious belief in a democratic society. The final chapter explores how Rawls's own religious beliefs, as revealed in two works posthumously published in 2009, played into his formulation of his theory of justice.
Contents
Preface
1 Rawls, Natural Rights, and the Process of Reflective Equilibrium
2 A Rawlsian View of War
3 Nussbaum, Mental Disability, and Animal Entitlements: A Rawlsian Perspective
4 A Rawlsian Critique of Legacy and Affirmative Action
5 "All for the Greater Glory of God": Was Saint Ignatius Irrational?
6 Rawlsian Religion
References
Index