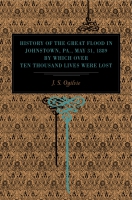 History of the Great Flood in Johnstown, Pa., May 31, 1889, by Which over Ten Thousand Lives Were Lost
Publish Date: 8/14/2008
Dimensions: 5.5 x 8.5
Page Count: 260 pages
Illustrations: 27 illustrations
Paperback ISBN: 978-0-271-02494-3
---
Publisher J. S. Ogilvie's History of the Great Flood gathers many first-person accounts of the Johnstown disaster of May 1889, offering a largely sensationalized compilation of articles and interviews concerning the event. (The title's declaration of 10,000 deaths should alert readers to treat Ogilvie's facts with skepticism—the official death toll from the Johnstown Flood was just above 2,200.) The book features a variety of illustrations, including morbid images of bodies deposited in trees, tragic scenes of hospital wards overflowing with flood victims, and depictions of rescue efforts among the ruins.
The interest of this work lies in the blending of truth and myth in the narratives told by a traumatized community emerging from the floodwaters. This portrait of the memorialized Pennsylvania disaster is an especially valuable source for those in the fields of media studies, historiography, and trauma psychology.
View a digital version of this book online at the Penn State University Libraries website.