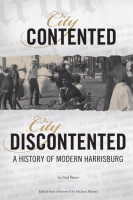 City Contented, City Discontented
A History of Modern Harrisburg
Publish Date: 6/18/2012
Dimensions: 6 x 9
Page Count: 424 pages
Paperback ISBN: 978-0-9839571-0-2
Distributed by the Penn State Press
for Midtown Scholar Press
"As a reporter-at-large, Paul Beers saw the city, cared that he saw it, and documented what was there to see. Now his years of observational columns are bound together for the first time in a beautiful new book, joined with rare and remarkable historical photographs. In a cityscape consumed by a troubled present, the new Midtown Scholar publishing venture brings forth words and works that explicate Harrisburg's past, while delivering jobs and hope for her living future. These collected columns by Paul Beers are testament to both the colossal importance of strong daily newspapers and the amazingly dedicated reporters and good editors who make them."
In City Contented, City Discontented: A History of Modern Harrisburg, award-winning journalist Paul Beers (1931–2011) reveals how contemporary Harrisburg came to be what it is. In a masterful series of essays, Beers charts the capital's development from a City Beautiful, with its celebrated public spaces and premier educational institutions, through the fractures of race riots and the catastrophic challenges of flood and near–nuclear meltdown. Beers employs the well-honed skills of a veteran reporter to craft fascinating character sketches of prominent leaders and humble citizens alike, intertwining their dramatic personal stories with a compelling survey of the region's society, politics, and culture in the twentieth century.
Contents
FOREWORD: Paul Beers, Historian at Large
1. Old Home Week and Renaissance I
2. City Beautiful
3. The Handsomest Building He Ever Saw
4. An Edifice of Sovereignty
5. The Biggest Centralized State Government in America
6. Itinerant Governors
7. Mira Lloyd Dock and the "Harrisburg Idea"
8. Vance McCormick and the Municipal League
9. The Most Spirited Election in Harrisburg History
10. Mayor McCormick and the Awakening of Harrisburg
11. The Harrisburg Improvement Plan
12. An Acre per 80
13. A Made-Over Town
14. A Different Sort of Selflessness
15. Becoming Modern
16. The Merchant Princess and the Real Estate King
17. Club Life
18. A Library, Bookstores, and a New Hospital
19. The First Suburbia
20. A Confederacy of Territories
21. Shipoke, Once the Puddlers' Hovel
22. Maris Harvey Taylor and Other Shipokers
23. Black Neighborhoods
24. The Hidden History of Sibletown
25. J. Horace McFarland and Bellevue Park
26. Front Street, The Best Address
27. Losing Front Street
28. Front Street Patricians
29. Unwashed Harrisburg
30. Power, Steel, and Dreams
31. The Pennsy and the Masterpiece
32. Railroad Lifestyle
33. Factory Town
34. From Sizzling to Cold
35. The Trolley Era
36. The Finest Public School System in Pennsylvania
37. The Zenith of Local Education
38. Learning Spree
39. An Obsession for Sports
40. Thorpe, Beck, and Kitzmiller Score
41. Tech, Champion of America
42. The Diamond at Island Park
43. Show-Biz Crossroads
44. The Grand Opera House
45. Theaters in a Tough Town
46. The Local Press
47. The Capitol Press Corps
48. The Patriot and The Telegraph
49. The Best Drama in Town
50. Newspaper Rivalry
51. The Evening News
52. Newspaper Men and Women
53. The Newhouse Newspaper
54. Wallower's Penn Harris
55. Penn Harris People
56. Everybody's Gathering Place
57. Jimmy Deliberty at the Esquire Bar
58. A City's Heart
59. From Patriarch to Orphan
60. "The Narrow Iron Shell of Life"
61. The First Modern Riot, 1969
62. William Lynch Murray and the Greater Harrisburg Movement
63. Harristown Proclaimed
64. Renaissance II?
65. The State in the City
66. Strawberry Square
67. Everybody's Out of Town
68. Shutting Up Shops in the 70's
69. The Restaurant Boom
70. The Fourth Largest City in Pennsylvania
71. Gilded Provinces
72. East Shore, West Shore
73. The Malling of Harrisburg
74. Colonizing and Carpetbagging
75. One of the World's Better-Known Chunks of Real Estate
76. "We Survived TMI"
77. 32.8 Feet, 650 Billion Gallons
78. Out of the Muck and the Mire
79. The Fanciest Trash Collection
80. Debt Crunch
81. The Infernal Furnace
82. Racial Separatism
83. Life for Harrisburg Blacks
84. Plantation Politics and Nibs Franklin
85. Dismantling Tokenism
86. The World of the Moose Lodge
87. A New Separatism
88. The Urban School Problem
89. The City's Largest Tax Collector
90. "Black" and "City"
91. The West Shore Cosmetological Crisis of 1970
92. Friendless Harrisburg
93. Racial Education
94. Guerilla Theater
95. Republican Hegemony
96. Ageless Harve Taylor
97. Post-Taylorism
98. Nolan Ziegler, Rare Mayor
99. The Noble and Lofty Ideal of HACC
100. Not Dead Yet
101. Gallant Forces
102. Big Al Straub
103. The Swensons
104. The Closest Election in City History
105. Chicken Corn Soup Politics
106. One Good Term Deserves Another
107. Going Crazy Everywhere
108. A Hotbed of Social Rest
109. No Higher Office
110. Swenson's Sincere Relief
111. Spoils Inherit the Victor
112. Skidding on the Ice
113. Unsavory Days
114. A New Generation
115. Revealing Glimpses
116. Such a Whirlwind
117. Reed's Vision
118. The Best Local Feud
119. The Hotel Situation
120. They Conquer Who Believe They Can
INDEX