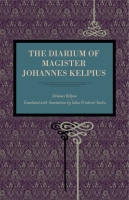 The Diarium of Magister Johannes Kelpius
Publish Date: 8/27/2012
Dimensions: 5 x 8
Page Count: 114 pages
Paperback ISBN: 978-0-271-05646-3
---
The radical German Pietist Johannes Kelpius traveled to Philadelphia in 1694 with a group of early German immigrants to America. He settled on the banks of Wissahickon Creek, where he led a small separatist religious community based in esotericism and mysticism, inspired by the teachings of Johann Jacob Zimmerman.
The aura of mystery surrounding Kelpius is heightened by the scarcity of his written record, of which his Diarium remains one of the few surviving texts. The Diarium provides a detailed account of his ten-week Atlantic voyage, relating stories of the difficult passage to America while offering a unique look into Kelpius's spiritual vision. In addition to a translation of his diary, this volume, originally published by the Pennsylvania German Society in 1917, contains translated selections from letters sent by Kelpius during the fourteen years he lived in Philadelphia prior to his death in 1708. Also included are facsimile pages of his prayer book A Short, Easy, and Comprehensive Method of Prayer.
Other Ways to Acquire
Buy from Amazon.com

Buy from an Independent Bookstore
Buy from Powell's Books

Join
Sign up for e-mail notifications about new books and catalogs!
Related Subjects