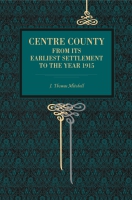 Centre County
From Its Earliest Settlement to the Year 1915
Publish Date: 2/3/2009
Dimensions: 6 x 9
Page Count: 119 pages
Paperback ISBN: 978-0-271-03460-7
---
This brief volume provides readers with an overview of Centre County's history from its earliest European settlement up to the year 1915. Exploring the county's major events across several centuries, J. Thomas Mitchell delves into such subjects as early living conditions, county government, and the establishment of townships. Mitchell also offers a history of Centre County's schools and of the Pennsylvania State College (now University) as well as a discussion of its transportation, industry, and major public figures.
View a digital version of this book online at the Penn State University Libraries website.
Other Ways to Acquire
Buy from Amazon.com

Buy from an Independent Bookstore
Buy from Powell's Books
Buy from Barnes and Noble.com

Join
Sign up for e-mail notifications about new books and catalogs!
Related Subjects