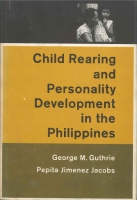 Child Rearing and Personality Development in the Philippines
Publish Date: 12/25/1966
Dimensions: 9 x 6
Page Count: 223 pages
Hardcover ISBN: 978-0-271-73111-7
---
A systematic comparison of child-rearing practices and problems in the Philippines and the United States using the landmark study by Sears, Maccoby, and Levin as a "control." The local data was derived from interviews with 279 Filipino mothers. The authors use theories of personality development to point out and explain the problems of growing up in a non-Western culture.
Other Ways to Acquire
Buy from Amazon.com

Buy from an Independent Bookstore
Buy from Powell's Books
Find in a Library
Join
Sign up for e-mail notifications about new books and catalogs!
Related Subjects