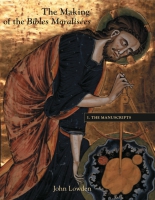 The Making of the Bibles Moralisées
Volume I: The Manuscripts
Publish Date: 8/14/2000
Dimensions: 8 1/2 x 11
Page Count: 376 pages
Illustrations: 24 color/119 b&w illustrations
Hardcover ISBN: 978-0-271-01909-3
Winner of a 2002 Otto Grundler Prize for the best book in Medieval Studies, sponsored by The Medieval Institute
"The reader stands in awe of John Lowden's magisterial work. His far-reaching findings should serve as an indispensable reference for all future studies not only of the Moralized Bibles but of other genres of medieval books as well."
"This admirable work makes a major contribution to history—of art, of biblical exegesis and of many aspects of mediaeval religion and society."
"This is a masterly study, bringing codicological analysis of the extant books into place with art history and theology. The information is diverse and complicated and Dr. Lowden has been allowed the luxury of two volumes and many plates to tell his story. He writes extraordinarily well, with a compelling sense of discovery and logical progression from chapter to chapter."
"These two handsome and extensively illustrated volumes offer a pioneering general study of the seven known Bibles Moralisées, today divided into thirteen individual manuscripts and spread among libraries in six different cities. . . . This is an extremely interesting and readable study, telling a story fascinating to both historians and bibliographers"
"One of the most important studies of medieval manuscript illumination published in many years, Lowden's work sets a new standard for interpretive codicology. In these two volumes, Lowden has laid the foundation for all future scholarship on the Bibles Moralisées."
The Bibles Moralisées are by far the richest and most complex attempt at biblical illustration ever undertaken. Seven of them survive today, made primarily for the kings and queens of France between the early thirteenth and late fifteenth centuries. John Lowden's pioneering two-volume study brings new material to light and offers a wholly new approach to understanding the Bibles, which contain literally thousands of figures.
Volume I, based on exhaustive codicological analysis, considers the making and the later history of use of each of the manuscripts. Volume II investigates in detail the treatment of one portion of the Bible, the Book of Ruth, in all the manuscripts. Discussion is supported by many new photographs in color and black and white. Together the two volumes challenge conventional wisdom about both the Bibles Moralisées and the relationship of word and image in medieval culture.
Other Ways to Acquire
Buy from Amazon.com

Buy from an Independent Bookstore
Buy from Powell's Books
Buy from Barnes and Noble.com
Get a License to Reuse
Find in a Library
Join
Sign up for e-mail notifications about new books and catalogs!
Related Subjects