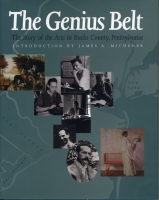 The Genius Belt
The Story of the Arts in Bucks County, Pennsylvania
Publish Date: 11/12/1996
Dimensions: 8 x 10
Page Count: 192 pages
Illustrations: 12 color/75 b&w illustrations
Hardcover ISBN: 978-0-271-01672-6
Paperback ISBN: 978-0-271-01673-3
Co-publisher: James A. Michener Art Museum
---
Bucks County, Pennsylvania—the name conjures up images of colonial villages, pastoral vistas, and famous artists. Walking down the streets of Doylestown or New Hope in the 1930s or 40s, you might have glimpsed humorist Dorothy Parker at a lunch counter or satirist S. J. Perelman at the hardware store, not to mention Pulitzer-Prize-winning writers like Oscar Hammerstein, James A. Michener, George S. Kaufman, Moss Hart, or Pearl S. Buck. Thanks to cheap real estate, proximity to New York City, and the lure of country living, Bucks County became such a well-known haven for creativity that the New York media began to call it "the genius belt."
This book tells the story of Bucks County's rich artistic tradition: from the nineteenth-century's best-known primitive painter, Edward Hicks, to the turn-of-the-century birth of a major art colony along the Delaware River, to the influx of literary and theatrical figures during the Depression. A colorful introduction by James Michener begins with the renowned author's boyhood in Doylestown and recalls his delightful memories of the county's "golden years."
Contents
James A. Michener / Introduction: The Golden Years
1. Dorothy Herrmann / The Writers
2. Phil Johnson Ruth / Footlights and Fireflies: The Bucks County Theater Tradition
3. Cleota Reed / Henry Chapman Mercer and the Craft Tradition
4. Patricia Tanis Sydney / The Visual Artists
5. Brian H. Peterson / Afterword: A Brief History of the James A. Michener Art Museum
Appendix 1: St. John Terrell / "Revolutionary Theater" at Washington Crossing
Appendix 2: W. Lester Trauch / Memories of the Early Bucks County Playhouse
Other Ways to Acquire
Buy from Amazon.com

Buy from an Independent Bookstore
Buy from Powell's Books
Buy from Barnes and Noble.com
Get a License to Reuse
Find in a Library
Join
Sign up for e-mail notifications about new books and catalogs!
Related Subjects