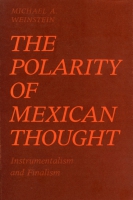 The Polarity of Mexican Thought
Publish Date: 11/30/1990
Dimensions: 6 x 9
Page Count: 144 pages
Hardcover ISBN: 978-0-271-01232-2
---
Mexican thinkers in recent generations have sought a philosophy emphasizing the ends of human activity (finalism) as contrasted with one stressing means or techniques (instrumentalism). According to Professor Weinstein's interpretation, an integrated perspective toward all aspects of the human condition characterizes Mexican philosophy and social thought, incorporating close attention to the aesthetic dimension of human experience and the tensions of human existence. The distinctive Mexican world-view provides a needed supplement to the analytical approach of North American philosophy and Marxist determinism.
Other Ways to Acquire
Buy from Amazon.com

Buy from an Independent Bookstore
Buy from Powell's Books
Buy from Barnes and Noble.com
Find in a Library
Join
Sign up for e-mail notifications about new books and catalogs!
Related Subjects