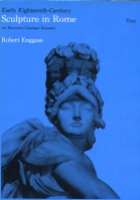 Early Eighteenth-Century Sculpture in Rome
An Illustrated Catalogue Raisonné
Publish Date: 11/12/1990
Dimensions: 8.5x11.5
Page Count: 424 pages
Illustrations: 263 illustrations
Hardcover ISBN: 978-0-271-01200-1
---
A major contribution to the history of European sculpture and a pioneering work in opening up a neglected area of art historical study, this catalogue establishes the documented works in Rome of twenty-one sculptors who were active there during the early 18th century. The photographic corpus contains over 250 illustrations, a majority of them taken specifically for this volume.
The introduction includes a general background and a history of the 18th century art patronage of the papacy. Professor Enggass also provides material on the careers of each sculptor. The stylistic developments in Rome at this time are described in relation to the various possibilities available for the many and varied commissions: allegorical figures, bas-reliefs, and commemorative tombs among others. This volume will provide an excellent and reliable guide to Roman sculpture of this transitional period and will make a body of attractive material available for the first time.
Other Ways to Acquire
Buy from Amazon.com

Buy from an Independent Bookstore
Buy from Powell's Books
Buy from Barnes and Noble.com
Find in a Library
Join
Sign up for e-mail notifications about new books and catalogs!
Related Subjects