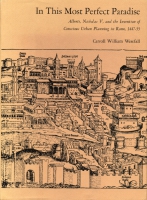 IN THIS MOSt PERFECT PARADISE
Publish Date: 6/1/1974
Dimensions: 8 x 10.5
Page Count: 292 pages
Hardcover ISBN: 978-0-271-01175-2
---
In This Most Perfect Paradise is the first extensive study of the early Renaissance papacy and its architectural policy. During the pontificate of Nicholas V a new concept of the Church and the papacy's role and mission came into focus and found expression in the collaboration between the pope and the period's most brilliant architect and theorist, Leon Battista Alberti.
Intending to convert the city into a magnificent and visible representation of the newly constituted Church, the Pope and his architect produced the first city planning project based on modem concepts of the city and of urban planning. That individual buildings, and the entire city they formed, should be subjected to conscious design revealing an ideology was a new and lasting idea.
Professor Westfall explores with remarkable thoroughness early Renaissance painting, sculpture, and architecture, as well as treatises on the arts and other humanist literature, to demonstrate that architecture had traditionally presented ideological content. His study shows that many well-known works of art can take on a new meaning when viewed not only as stylistic phenomena but also as elements in a comprehensive civic culture. He expands an art historical subject to embrace an impressive knowledge of other historical disciplines, such as church history, intellectual history, the history of the city of Rome, literary history, theology, and medieval and renaissance philosophy.
In This Most Perfect Paradise is a fundamental contribution to Renaissance studies and establishes a new and important point of departure for future studies of the history of the city.
Other Ways to Acquire
Buy from Amazon.com

Buy from an Independent Bookstore
Buy from Powell's Books
Buy from Barnes and Noble.com
Find in a Library
Join
Sign up for e-mail notifications about new books and catalogs!
Related Subjects