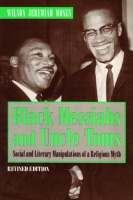 Black Messiahs and Uncle Toms
Social and Literary Manipulations of a Religious Myth. Revised Edition
Publish Date: 10/1/1990
Dimensions: 6 x 9
Page Count: 294 pages
Hardcover ISBN: 978-0-271-00294-1
Paperback ISBN: 978-0-271-00933-9
"A brilliant and provocative book. It is a major contribution to Afro-American Studies, and religious studies, as well as an incisive critique of American civilization. . . . The author analyzes black messianism, a form of redemptive theology which assumes that Afro-Americans are destined to play a unique role in history and have a special message for humanity. . . . Moses finds that by employing the concept of black messianism he was able to reconcile apparently opposing trends in black history. He notes that the Afro-American's desire to separate from the mainstream of American society can be reconciled with his desire to integrate."
"Moving chronologically over 150 years of Afro-American history, Moses discusses the religio-political positions of diverse historic figures and the messianic themes of several novels. It's obvious that he has read exhaustively and reflected seriously. Fresh insights abound. His assertion, for example, that David Walker's Appeal is more a jeremiad than a protonationalist tract is a convincing rereading. He sardonically demonstrates that the 'Uncle Tom' ideal, correctly understood, has exerted a lasting appeal not only upon integrationists but upon separatists as well. . . . An impressive study of an important myth in Afro-American and American culture."
"Martin Luther King is dead and the millenarian integrationalism that he symbolized sleeps with him," but messianic Christian rhetoric still characterizes black oratory both from the pulpit and on the hustings. Dead, too, are the chief American prophets of Pan-Islam, but the Ethiopian Hebrews and Moorish Science Temple are still active. "As black messianic myths die out," this book argues, "new ones spring up to take their places."
Dr. Moses views black messianism as "a powerful and, in many respects, a beautiful myth, permeating the thinking of both white and black Americans since the late 18th century." But, he points out, black messianism was evident as early as 1788 in the writings of "Othello," or 1791, when Benjamin Banneker wrote to Thomas Jefferson of the Negro's divine right to share the new nation's "peculiar blessing of the heaven." The author carefully defines the concept of messianism, and considers "redemptive mission" as a key attribute of the conception—one with which Harriet Beecher Stowe endowed Uncle Tom (despite activists' mistaken notion of him as servile).
The mythic black hero as messiah is a pervasive theme in literary and social expressions as disparate as the writings of Booker T. Washington, Marcus Garvey, W.E.B. Dubois, and Ralph Ellison, and the cults that developed around Joe Louis, Malcolm X, and others. Following the methodology used by Henry Nash Smith in Virgin Land: The American West as Symbol and Myth, Dr. Moses presents a "new angle of vision on many of the issues of black messianism and on the leading figures in the movement." The author concludes that—despite the frequent excesses and even absurdities of black messianism—the American traditions of "evangelical reform, perfectionism, and the social gospel" offer more promise than today's widespread "narcissistic anarchism."
Reviewers commented that "[Dr. Moses'] analysis is as probing as anything " and that the book "will stir controversy as well as praise by other scholars in the field."
Other Ways to Acquire
Buy from Amazon.com

Buy from an Independent Bookstore
Buy from Powell's Books
Buy from Barnes and Noble.com
Get a License to Reuse
Find in a Library
Join
Sign up for e-mail notifications about new books and catalogs!
Related Subjects