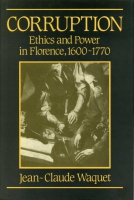 Corruption
Ethics and Power in Florence, 1600–1770
Publish Date: 3/13/1992
Dimensions: 6 x 9
Page Count: 234 pages
Hardcover ISBN: 978-0-271-00810-3
Co-publisher: Polity Press
---
In this elegant and original book, Jean-Claude Waquet examines the problem of corruption in early modern Europe. Defining corruption to include both embezzlement of public funds by officials and their taking presents in return for favors rendered, he seeks to explain why it was pervasive in the early modern state, using as his case study the military and civil administration of Florence in the seventeenth and eighteenth centuries.
Waquet critically examines previous studies of corruption in Europe and puts forward an original thesis that the political dimension of corruption, stealing power from one's superiors, was as important as the economic dimension. He shows how its almost metaphysical nature, as the very origin of human vice, prevented the phenomenon from being examined. Using a comparative perspective and a wealth of archival material, Waquet has produced a remarkable work of historical sociology whose conclusions have broad implications for our view of governmental corruption today.
Other Ways to Acquire
Buy from Amazon.com

Buy from an Independent Bookstore
Buy from Powell's Books
Buy from Barnes and Noble.com
Get a License to Reuse
Find in a Library
Join
Sign up for e-mail notifications about new books and catalogs!
Related Subjects