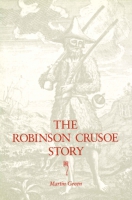 The Robinson Crusoe Story
Publish Date: 11/29/1990
Dimensions: 6 x 9
Page Count: 328 pages
Hardcover ISBN: 978-0-271-00705-2
---
Robinson Crusoe is one of the great myths of Western literature and one of the great adventures of all time. Martin Green traces the lineage of this influential novel and uses its offspring as cultural touchstones, revealing its universal theme of the white race's triumph, guilt, or anxiety over its relations with other races. Green has chosen representative retellings spanning a 250-year period from English, American, German, French, Swiss, and Scottish literatures to illustrate his theory. He examines the ways in which the story has been told—for children, as satire, as romance, as apocalypse and dystopia—and he provides the historical and cultural context for each work, broadening literary study into cultural study. Green's ultimate interest is the modern adventure tale, which begins with Defoe and is still being told today, that adventure which is the myth of modern society.
Other Ways to Acquire
Buy from Amazon.com

Buy from an Independent Bookstore
Buy from Powell's Books
Buy from Barnes and Noble.com
Get a License to Reuse
Find in a Library
Join
Sign up for e-mail notifications about new books and catalogs!
Related Subjects