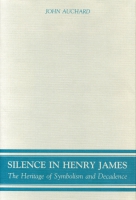 Silence in Henry James
The Heritage of Symbolism and Decadence
Publish Date: 10/1/1990
Dimensions: 6 x 9
Page Count: 192 pages
Hardcover ISBN: 978-0-271-00420-4
---
Against a background of Continental literary movements, Auchard explores the structures of silence in the novels and tales of Henry James. He develops their dynamics in terms of plot and action as he draws out their disturbing philosophical implications. The book relates James to the reaction against nineteenth-century materialism, which was symbolism, to the potency of decadence, to the century's pulses of mysticism, even to its wave of aestheticized Catholicism, and it brings James up to the edge of the modern abyss. In presenting the distinction between the symbolic richness of positive silences and the decadent void of negative silences, the work provides original scholarship of the highest order, both on James and on the extensive literature of silence, symbolism, and decadence. Silence in Henry James may indeed be a source of integrity, vitality, and fertility, but it plays out its subtle dialectic on the edge of nothingness and sometimes on the brink of collapse.
Other Ways to Acquire
Buy from Amazon.com

Buy from an Independent Bookstore
Buy from Powell's Books
Buy from Barnes and Noble.com
Find in a Library
Join
Sign up for e-mail notifications about new books and catalogs!
Related Subjects