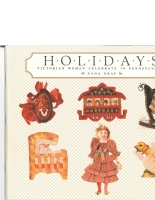 Holidays: Victorian Women Celebrate in Pennsylvania
Publish Date: 10/1/1990
Dimensions: 10 3/4 x 8.5
Page Count: 76 pages
Illustrations: 250 color illustrations
Paperback ISBN: 978-0-271-00357-3
---
Women in rural Pennsylvania played an important role in family celebrations of Christmas and Easter during the late nineteenth and early twentieth centuries. This book focuses on that role by examining their crafts related to the tree and the egg. Guided by the editors of ladies magazines, they strove for fashionable holiday decorations created from readily available materials.
Through the use of photographs and patterns of period and contemporary decorations, the reader will be able to recreate similar holiday decorations. There are approximately 250 items in full color and black and white with many turn of the century photographs of early trees.
Other Ways to Acquire
Buy from Amazon.com

Buy from an Independent Bookstore
Buy from Powell's Books
Buy from Barnes and Noble.com
Find in a Library
Join
Sign up for e-mail notifications about new books and catalogs!
Related Subjects