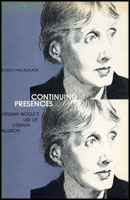 Continuing Presences
Publish Date: 4/1/1979
Dimensions: 6 x 9
Page Count: 208 pages
Hardcover ISBN: 978-0-271-00208-8
---
Both a critical interpretation and a concordance to the allusions in five representative Woolf novels, this book shows that her allusiveness is not mere embroidery but is a functional aspect of her style, contributing to plot action, setting, characterization, theme, and structure.
Woolf's novels—like the works of Joyce, Eliot, or Tom Stoppard—become richer when a key is given to their many-layered allusiveness. This is often indirect, as when Woolf paraphrases Plato, Virgil, or Pope; often direct but obscure, as when she refers to a comic character named Jorrocks from an 1838 popular novel. A key is needed by most readers in an era when the shared body of literary knowledge—including myth, the Bible, Shakespeare—has largely disappeared.
Dr. Schlack's five critical chapters focus on a cross section of the Woolf canon: the three singular, unclassifiable novels (Jacob's Room, Orlando, The Waves), one "novel of fact" (The Voyage Out), and one "novel of vision" (Mrs. Dalloway). The second part of the book provides, for each of the five novels, an alphabetical list of authors, titles, and fictional or legendary characters used by Woolf, with page references to the novels and explanatory comments. This is followed by a valuable bibliography of works by and about Woolf.
Virginia Woolf wrote—and should be read, Dr. Schlack maintains—"as if literature were a dense and richly imagined world of continuing presences, echoing and re-echoing down the corridors of our minds."
Other Ways to Acquire
Buy from Amazon.com

Buy from an Independent Bookstore
Buy from Powell's Books
Buy from Barnes and Noble.com
Find in a Library
Join
Sign up for e-mail notifications about new books and catalogs!
Related Subjects