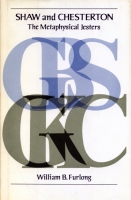 Shaw and Chesterton
Publish Date: 5/3/1991
Dimensions: 5.5 x 8.5
Page Count: 208 pages
Hardcover ISBN: 978-0-271-00110-4
---
In this scholarly, eminently readable volume, Professor Furlong has given us the details of one of the most remarkable literary relationships of the 20th century. George Bernard Shaw and Gilbert Keith Chesterton shared public platforms for sixteen years (1911–27) and private friendship for at least thirty-five (1901–36). Whole groups of their apostles and disciples sprang up and thrived on both sides of the Atlantic; an editor had only to use the initials or "G.K.C." to identify either for the general public. Dubbed by Hesketh Pearson "debaters of the century," they professed a dichotomy of views on everything from religion to beer, yet never allowed their public positions to interfere with their long-term friendship.
Despite a warm personal association that never wavered, Shaw and Chesterton were often diametrically opposed in principle; however, controversy led them not to acrimony, but to laughter and perceptive critical writing. Their dialogue was "ecumenical" fifty years before the word became fashionable.
Other Ways to Acquire
Buy from Amazon.com

Buy from an Independent Bookstore
Buy from Powell's Books
Buy from Barnes and Noble.com
Find in a Library
Join
Sign up for e-mail notifications about new books and catalogs!
Related Subjects